Posts tagged
u.s. open cup
Chivas USA's promising U.S. Open Cup campaign came to a staggering end yesterday in their 4-1 defeat away to the Seattle Sounders.  This match comes after a horrid home draw against the Vancouver Whitecaps over the weekend. The Goats were playing for a spot in the USOC final, something the team has never done before in franchise history. With a good run into the semi, the team had a good chance to vie for the title. However, their unfortunate summer form got the better of them. Not to discredit the play of the Sounders, Chivas USA was unable to find a good rhythm until late in the second half after Seattle had already scored 2 goals.
Both teams started off slow, but the Sounders were able to find their footing and gain possession after about 20 minutes. An Eddie Johnson goal put the Sounders up in the 31st minute after a defensive lapse from the Chivas USA backline. The goal was followed up with a couple more attempts from the Sounders and some terrific saves, yet again, from Dan Kennedy. Chivas USA had ZERO shots on goal in the first half.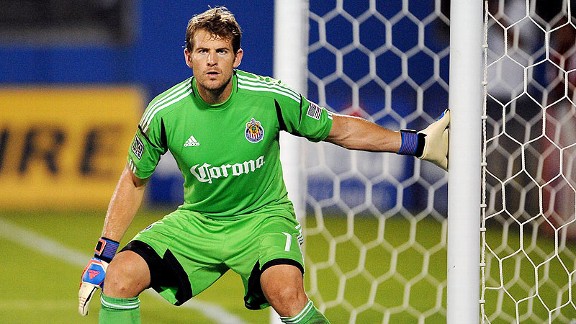 Before the international break, Chivas USA made headlines more times in two weeks than they probably had in a couple of seasons. It started with their 1-0 defeat of cross-town rivals LA Galaxy. The Goats had not beaten the Galaxy in 14 matchups. I'm not sure that many people would even acknowledge it as a rivalry due to its lopsided nature. However, Chivas USA showed a lot of promise in this season leading up to the matchup, while the Galaxy was sputtering. The Goats were able to convert a PK in the second half and go away with a 1-0 win at home. This type of matchup does wonders for confidence, and helped the team get an important away point at New York Red Bulls just 4 days later, and another point against the Seattle Sounders just after that. I won't get into the details of their continued tendency to give up goals so soon after taking a lead, as I would just be beating on a dead horse.