10/09/13
Abby Wambach and Sarah Huffman got married in a ceremony in Hawaii this past weekend, multiple sources such as TMZ are now reporting.
Read more
<
>
It Ain't Pretty, But It's All We Needed
The US had a predictably disjointed first set of qualifiers, beating an organized Antigua & Barbuda side at home, and surviving a typically sketchy road trip to Guatemala.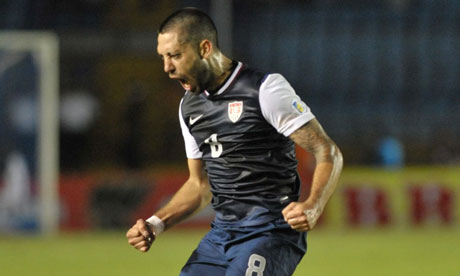 We said all along that the only thing that matters here is getting results.  Style points don't count in qualifying – which is a good thing because they typically are nowhere to be found.  People who think we should waltz into Central America and dominate haven't been watching CONCACAF soccer for long.  A draw does just fine, thank you very much.  And it sets us up nicely for a home and home set against Jamaica in early September, which will go a long way towards determining if we can book our ticket to the Hex early or if we'll have to sweat out the final couple of matches.
So what about the performances?
Because soccer is just hockey without the weapons, right?
Yesterday, Italy striker Antonio Cassano said he hopes there aren't any gay players on his National Team (using an Italian derogatory term for gay people.)
A Swedish newspaper contacted out player Anton Hysén for his reaction (translation via The Guardian):
I don't understand how a role model such as Antonio Cassano can say something like that. It is sad and I don't understand how someone who is playing at that level can say something like that. He is a big name in the game and a role model for others. It is not good. It is difficult to know how to deal with things like this. I can't get involved but the Italian Football Federation must look into it. Something can always be done.
Anton's half brother Tobias is a forward for the Swedish squad at the Euros, currently facing their own issues with some hazing-type behavior after their first-game loss.
Ten down, nine to go. Today, the Midwest. Or at least, what I call the Midwest from my little Eastern sanctuary. Meaning, Chicago, Columbus, and Kansas City.
Italian National Team and AC Milan forward Antonio Cassano was asked today in Poland about rumors of closeted gay players on his team.
He responded:
"Poofs in the national team? That's their problem. But I hope not".
The word in Italian he used was froci, which is slang that can be translated to mean "poof" or f*g." Most media outlets just report that he used a "derogatory word toward gays."
This is incredibly appalling considering if there are closeted players on the team, they fell all the more unwelcome on the team.
Update: Cassano later apologized (translation via Twitter user @agiamba): "I am truly sorry that my comments caused controversy and offended gay rights associations. I do not share the sentiments of homophobia, I didn't want to offend anyone or call into question people's sexual choices. I only said it's an issue that doesn't relate to me, and I don't want to judge others choices, they should be respected."
Choices? Clearly Cassano needs much more education into LGBT issues based on how he worded his weak "sorry that I offended people" apology.
Also today at Euro 2012 there are clashes between Russian and Polish fans (AP reports violence, ESPN says peaceful), a Polish city official thanked guests to his city for behaving like "civilized white people" and UEFA finally started looking into racist taunts directed toward Mario Balotelli.
German GLBT anti-violence group Maneo created the following poster ahead of their country hosting the 2006 FIFA World Cup, but it's getting a lot of buzz now that it's Euro 2012 time and the spotlight is on the host countries' less-than-stellar records when it comes to civil rights:
Okay, so most of the West is covered, but there's two "canon" Western Conference teams to go in our round-up, plus one team that's technically in the East but really shouldn't be.
Voting for the 2012 MLS All Star Game opened this Friday and we've already had a few people ask us who on the fan voting ballot is a Soccer Ally.
So if you want to stack the MLS All Stars with LGBT-supportive players, here are some suggestions as to who to vote for:
Goalkeepers:
Joe Cannon (VAN), Bill Hamid (DC), Dan Kennedy (CHV), Zac MacMath, (PHI), Jimmy Nielsen (SKC)
Defenders:
Jay DeMerit (VAN), Chad Marshall (CMB), Heath Pearce (NY), A.J. Soares (NE), Carlos Valdés (PHI)
Midfielders:
Lee Nguyen (NE), Chris Pontius (DC)
Forwards:
David Estrada (SEA), Sébastien LeToux (VAN), Chris Wondolowski (SJ)
In our last episode, we talked about what musicals best represent the Galaxy, Chivas, Rapids, and Earthquakes. Today, I continue with the Western Conference, featuring the three teams of the Cascadia rivalry.
During this international break for Major League Soccer the Portland Timbers decided to trade forward Jorge Perlaza for Philadelphia Union's forward Danny Mwanga.
Many fans gave a positive reaction to this news and I would have to concur with most of what the Timbers fans have said. I have to admit Jorge Perlaza was getting a bit lazy on the pitch. He would not finish the deals and score the goals. He was good last season and went downhill from there. It is sad to see him go knowing that he was the person that scored the very first goal at Jeld-Wen Field against the Chicago Fire. However, in Philadelphia he will get more playing time and more opportunity to get some more goals. I am hoping that he doesn't have the Kenny Cooper effect and blow us out of the water with his talents, since that is what is happening with Kenny Cooper and the New York Red Bulls.