03/07/14
Out Swedish soccer player Anton Hysén has signed with the Myrtle Beach Mutiny of the National Premier Soccer League. Hysén came out exactly three years ago in an interview with Swedish soccer magazine Offside and in this site's first interview ...
Read more
<
>
0
This weekend saw an emotional game for both sides of the I-5 corridor, especially for the Timbers. We had to get a win in our column or else things might have gone terribly for our organization. However, both teams spilled their heart and soul onto the pitch in a very feisty match.
I do like though the Tifo display that was shown for this match and I have to congratulate the Timbers Army for coming up with the artistic display.
0
WARNING: Non-soccer content ahead.
But you can't help but admire Ben Cohen, an English rugby player and World Cup medal-holder who has made his post-playing career all about standing up to bullying and for LGBT rights with his Stand Up Foundation.
This week the Foundation began taking pre-orders of a new underwear line, with proceeds benefiting the organization and ads featuring its founder modeling all of the available styles.
Ben is touring the USA right now for Pride season, so you can keep up with where he's at and what events you can join him at via his Facebook and Twitter.
Please help support the Stand Up Foundation at their website and check out more of the promotional photos — along with a critical question — after the jump!
0
US Women's National Soccer Team members Christie Rampone, Carli Lloyd, and Heather O'Reilly chatted with NBC Today Show hosts Savannah Guthrie and Natalie Morales about the upcoming Olympics, last year's World Cup, and motherhood.
But they failed to mention that their Olympics sendoff friendly will be on NBC this Saturday afternoon! Not on NBC Sports, not on Universal Sports, on the National Friggin' Broadcasting Company. When's the last time a Women's International Friendly was aired on broadcast television in the United States, if ever? And they fail to plug it on that very network's flagship morning show.
Visit msnbc.com for breaking news, world news, and news about the economy
This is especially frustrating with the massive attention NBC is giving Olympics Swimming this week; the Today Show was heavily promoting all-week nightly network coverage of the USA Olympics Swimming trials.
0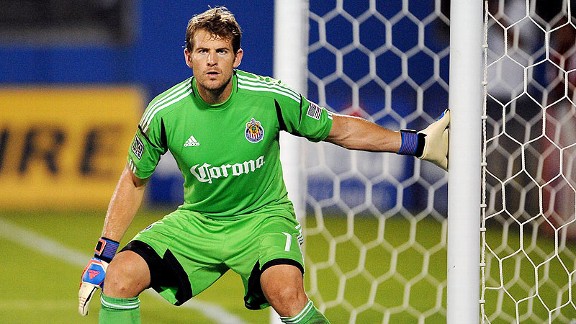 Before the international break, Chivas USA made headlines more times in two weeks than they probably had in a couple of seasons. It started with their 1-0 defeat of cross-town rivals LA Galaxy. The Goats had not beaten the Galaxy in 14 matchups. I'm not sure that many people would even acknowledge it as a rivalry due to its lopsided nature. However, Chivas USA showed a lot of promise in this season leading up to the matchup, while the Galaxy was sputtering. The Goats were able to convert a PK in the second half and go away with a 1-0 win at home. This type of matchup does wonders for confidence, and helped the team get an important away point at New York Red Bulls just 4 days later, and another point against the Seattle Sounders just after that. I won't get into the details of their continued tendency to give up goals so soon after taking a lead, as I would just be beating on a dead horse.
0
Tomorrow is the fortieth anniversary of Title IX becoming law. Who knows where our favorite women's soccer players would be today without the impact that this legislation has had on scholastic sports?
Major League Soccer is marking the anniversary with this web video, and ESPN released a series of YouTube interviews including Hope Solo, Abby Wambach, and Kristine Lilly.
0
This has been the game I have been looking for since the start of the MLS season: the Cascadia Derby between the Portland Timbers and the Seattle Sounders. These two teams have a long history of hating one another; I am hoping that things do not get out of hand and things boil over. However, so much is on the line between these two teams come Sunday. Payback is going to be on the line knowing that both teams are looking for some payback after their awful defeats last weekend. As a Timbers fan there is more on the line that people may not realize.
Pride is always on the line when it comes to these derbies. This game will be played at home and the fans will be going wild. If we win this game we would have some bragging rights going on in the rivalry. Also we would be ahead of Seattle and Vancouver when it comes to the Cascadia Cup. Also it would give us a much needed boost in confidence for our team that we so desperately need as we approach the halfway mark of the MLS season.  So those things are on the line when it comes to the team itself.
0
It's been a while since I've written…mostly because there hasn't been much to write here in Toronto FC-land.
The Aron Winter era ended about two weeks ago, and we're on coach #7 (the one that should have come in about three slots before, if that Scotsman had his way), and we're on a ship that is headed by someone who clearly wants no further part in the organization (and is awaiting his promotion to another part of the MLSE fiefdom) — let's just say Euro 2012 has proven to be a welcome distraction.
This of course doesn't distract us from the recent nightclub outing by three players (thankfully not including any of our three G4S allies) which resulted in some nice mugshots being taken, and the new Paul Mariner era opened with a 2-0 loss away to Sporting Kansas City, where the trademark carelessness cost TFC the early goals on the way to yet another loss.
I'm just at a loss for words as to what else to say…
0
Each year the rivalry between Houston and Dallas takes center stage at the Texas Derby. Usually the front offices exchange banter leading up to the game, but this year was a little different. While Dallas released two viral videos and started a "Crush the Orange" campaign, Houston kept suspiciously quiet. Fans quickly reacted by poking fun at Dallas' low ticket sales and weren't afraid to point out that every MLS game at BBVA Compass Stadium has sold out. President Chris Canetti joined in, replying to a 'crush the orange' package he received, he tweeted "Thank u @FCDallas for the package. Appreciated. Sorry we haven't reciprocated. Busy here w/ business."
0
It's Pride Week in Houston, and the Dynamo are helping celebrate with Pride in the Park at their game against Toronto FC tonight at BBVA Compass Stadium.
Over 100 fans have already purchased tickets as part of Pride Night, so it's sure to be an exciting event with the team providing Dynamo-emblazoned Pride beads for fans to keep and toss at this weekend's parade.
If you have a group of four or more you can contact A.J. O'Rourke at (713) 276-7541 to get tickets in the Pride Night section. Individual seats can be purchased here using the code "LGBT12."
You can check out the official Pride Houston page for the event here, and check out everyone who's already going on the event's Facebook page.
I know I'll be watching on MLS Live tonight for all the great LGBT fans in the upper deck of the Walker End!
0
This weekend's result was what the Timbers did not need: a loss against the last-place Los Angles Galaxy.  The Timbers have not had a good record on the road and even worse record at the Home Depot Center — they are winless at the HDC against not only the Galaxy but also against Chivas USA as well.
The Timbers are now currently in 7th place but are within striking distance to getting into 6th place if they win next week. The only good news to come out of this was the return of David Horst back into the lineup as a starting defender who played the entire 90 minutes. Otherwise, I will admit it was a lack luster performance by the team itself.