03/07/14
Out Swedish soccer player Anton Hysén has signed with the Myrtle Beach Mutiny of the National Premier Soccer League. Hysén came out exactly three years ago in an interview with Swedish soccer magazine Offside and in this site's first interview ...
Read more
<
>
It's been a while since I've written…mostly because there hasn't been much to write here in Toronto FC-land.
The Aron Winter era ended about two weeks ago, and we're on coach #7 (the one that should have come in about three slots before, if that Scotsman had his way), and we're on a ship that is headed by someone who clearly wants no further part in the organization (and is awaiting his promotion to another part of the MLSE fiefdom) — let's just say Euro 2012 has proven to be a welcome distraction.
This of course doesn't distract us from the recent nightclub outing by three players (thankfully not including any of our three G4S allies) which resulted in some nice mugshots being taken, and the new Paul Mariner era opened with a 2-0 loss away to Sporting Kansas City, where the trademark carelessness cost TFC the early goals on the way to yet another loss.
I'm just at a loss for words as to what else to say…
Each year the rivalry between Houston and Dallas takes center stage at the Texas Derby. Usually the front offices exchange banter leading up to the game, but this year was a little different. While Dallas released two viral videos and started a "Crush the Orange" campaign, Houston kept suspiciously quiet. Fans quickly reacted by poking fun at Dallas' low ticket sales and weren't afraid to point out that every MLS game at BBVA Compass Stadium has sold out. President Chris Canetti joined in, replying to a 'crush the orange' package he received, he tweeted "Thank u @FCDallas for the package. Appreciated. Sorry we haven't reciprocated. Busy here w/ business."
It's Pride Week in Houston, and the Dynamo are helping celebrate with Pride in the Park at their game against Toronto FC tonight at BBVA Compass Stadium.
Over 100 fans have already purchased tickets as part of Pride Night, so it's sure to be an exciting event with the team providing Dynamo-emblazoned Pride beads for fans to keep and toss at this weekend's parade.
If you have a group of four or more you can contact A.J. O'Rourke at (713) 276-7541 to get tickets in the Pride Night section. Individual seats can be purchased here using the code "LGBT12."
You can check out the official Pride Houston page for the event here, and check out everyone who's already going on the event's Facebook page.
I know I'll be watching on MLS Live tonight for all the great LGBT fans in the upper deck of the Walker End!
This weekend's result was what the Timbers did not need: a loss against the last-place Los Angles Galaxy.  The Timbers have not had a good record on the road and even worse record at the Home Depot Center — they are winless at the HDC against not only the Galaxy but also against Chivas USA as well.
The Timbers are now currently in 7th place but are within striking distance to getting into 6th place if they win next week. The only good news to come out of this was the return of David Horst back into the lineup as a starting defender who played the entire 90 minutes. Otherwise, I will admit it was a lack luster performance by the team itself.
LGBT media group GLAAD and Athlete Ally, founded by All-American college wrestler and coach Hudson Taylor, are partnering to provide LGBT Ally trainings to all 141 North American Major League teams. By my math, that includes Major League Soccer along with MLB, NBA, NFL, and NHL.
From their press release:
Together, the groups will offer proactive Athlete Ally trainings for professional sports teams. GLAAD and Athlete Ally founder Hudson Taylor will educate professional athletes about the importance of LGBT allyship and empower pro sports organizations to stand against homophobia and transphobia…."Athletes are leaders," said Athlete Ally Executive Director Hudson Taylor. "Today more than ever, professional players have the power to affirm, connect and inspire people around the world. By taking small steps based on simple ideas at the heart of sportsmanship – like treating others as you want to be treated – professional sports can unite communities and create a better and more inclusive tomorrow."
We look forward to Major League Soccer clubs being first in line to participate in the Athlete Ally training program, and we hope they take a look at our Allies work as they plan their trainings!
Adam was your host all week as Major League Soccer took on the Broadway stage in our salute to the Tony Awards.
Part I: Chivas USA, Colorado Rapids, LA Galaxy, and San Jose Earthquakes
Part II: Portland Timbers, Seattle Sounders, and Vancouver Whitecaps
Part III: FC Dallas, Houston Dynamo, and Real Salt Lake
Part IV: Chicago Fire, Columbus Crew, and Sporting Kansas City
Part V: Montreal Impact, Philadelphia Union, and Toronto FC
Part VI: DC United, New England Revolution, and New York Red Bulls
Here's how the Book of Mormon hilariously kicked off this year's Tony Awards, but you can see what team they pair with after the jump…
I haven't watched a single match of Euro 2012.  But I have followed all of KickTV's coverage of the tournament because it has been engaging, interesting, and funny. (And not just because it's MLS Live commercial break filler.)
Jimmy Conrad does a great job bringing the fan experience and soccer culture of Eastern Europe to his audience back home.  And the KickTV crew doesn't shy away from the controversy either.
It's the kind of coverage only a dedicated short-form video channel can provide, and I hope its success means we'll see more of their crew traveling to Major League Soccer events throughout this year, and making Gold Cup 2013 the next long road trip on their docket.
Jimmy, we may have an opportunity for you to show off those moves next month…
Yesterday, members of the LGBT sports community and straight allies began meeting at Nike Headquarters in Oregon for their first ever LGBT Sports Summit. Representatives include our friend Patrick Burke at the You Can Play Project, Athlete Ally's Hudson Taylor, GLSEN's Changing the Game, and ESPN.
The summit aims to bring groups together to talk about homophobia and transphobia in sports and share ideas and come up with a game plan to combat them.
A soccer-related highlight, though, is former rugby player, Stand Up Foundation founder, and all-around hottie Ben Cohen making a trip to Jeld-Wen field last night.
Time for the big finale. The show-stopper. The tune you walk away from the theater humming.
But first…
Much better.
It Ain't Pretty, But It's All We Needed
The US had a predictably disjointed first set of qualifiers, beating an organized Antigua & Barbuda side at home, and surviving a typically sketchy road trip to Guatemala.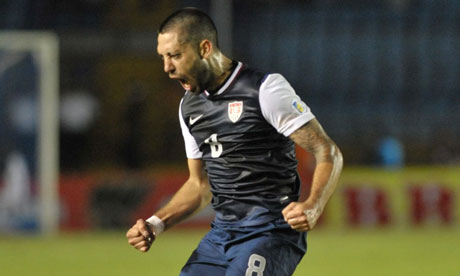 We said all along that the only thing that matters here is getting results.  Style points don't count in qualifying – which is a good thing because they typically are nowhere to be found.  People who think we should waltz into Central America and dominate haven't been watching CONCACAF soccer for long.  A draw does just fine, thank you very much.  And it sets us up nicely for a home and home set against Jamaica in early September, which will go a long way towards determining if we can book our ticket to the Hex early or if we'll have to sweat out the final couple of matches.
So what about the performances?